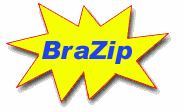 BraZip is currently the most efficient and complete file compression software in the market. Developed by a Brazilian company, this software has been created for beginners, technicians and professionals of the computer science area. The high technology used in the programming of BraZip allowed for the creation of exclusive resources, which make it the most powerful compressed file manipulation tool and a software of incredible acceptance among users of the Brazilian Internet.
Discover the superior quality and all the advantages of using BraZip 4.0. Download the complete version for evaluation, totally free.
Come on and join us !!